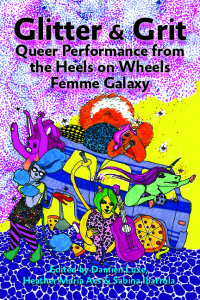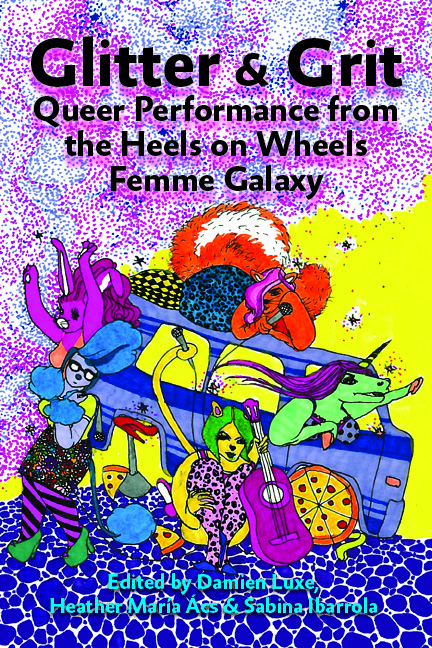 After six years of touring and local events, the fine femmes of Heels on Wheels and myself curated Glitter and Grit: Queer Performance from the Heels on Wheels Femme Galaxy.
This anthology featuring tour stories, feminist art DIY tips, and writing and art by some of our favorite brilliant current queer cultural workers. All the contributors are listed here [and below].
"Read this because it will make you whole…" Lambda Literary published a fantastic review already which you can read all of here.
Edited by: Damien Luxe, Heather María Ács and Sabina Ibarrola.
Curatorial Collective: Alejandro Rodriguez, Andrea Glik,  Lizxnn Disaster, Mette Loulou von Kohl, Nicole Myles.
Published in 2015 by: Publication Studio, Portland USA
Folks can buy Glitter and Grit online, direct from Publication Studio for $24.95 + shipping at: http://www.publicationstudio.biz/books/322
*Brooklyn Launch*
Friday February 5th @ JACK, 505 Waverly Ave, Brooklyn NY
Doors at 7, event at 7.30
Tickets are $10, and you'll hear readings from the book, see fun images *and* get to buy a copy for $20 – save $5 off and no tax!
Get a ticket here: http://www.brownpapertickets.com/event/2488817
Facebook event here:
*NYC Launch*
Saturday March 26, 2016 @ BGSQD, inside The [LGBTQ] Center, 13th St in Manhattan
Doors at 7, event at 7.30.
Sliding-scale at the door, books available for purchase, $24.95.
Readers TBA.
#GlitterandGrit features writing and art by:
Alejandro Rodriguez
Alex Cafarelli
Alexander Alvina Chamberland
Alvis Parsley/Alvis Choi
Amber Dawn
Andrea Glik
Anna Joy Springer
Annah Anti-Palindrome
Annie Danger
Ariel "Speedwagon" Federow
Ashley Young
Azure D. Osborne-Lee
Bekezela Mguni
Bevin Branlandingham
Caitlin Rose Sweet
Celeste Chan
Cristy C. Road
Damien Luxe
Drae Campbell
Ezra Berkley Nepon
Foxy E. Squire
Gigi Frost
Glenn Marla
Hana Malia
Hannah Morrow aka Lilac Poussez
Heather María Ács
Johnny Forever Nawracaj
Kama La Mackerel
Kay Ulanday Barrett
Kentucky Fried Woman
Kirya Traber
Kit Yan
Leah Horlick
Leah Lakshmi Piepzna-Samarasinha
Lettie Laughter
Matthew de Leon /Untitled Queen [cover artist]
Mée Rose + Leanne Powers
Melanie Keller
Meliza Bañales/Missy Fuego
Michelle Embree
Muggs Fogarty
Nomy Lamm
Sabina Ibarrola
Samantha Galarza
Sassafras Lowrey
Siobhan Katherine Flood
Shira Erlichman
Shomi Noise
Sophie Spinelle
Sossity Chiricuzio
sunny drake
the dandy vagabonds
The Miracle Whips
Tina Horn
T.L. Cowan
Rosza Daniel Lang/Levitsky
YaliniDream
Zachary Wager Scholl