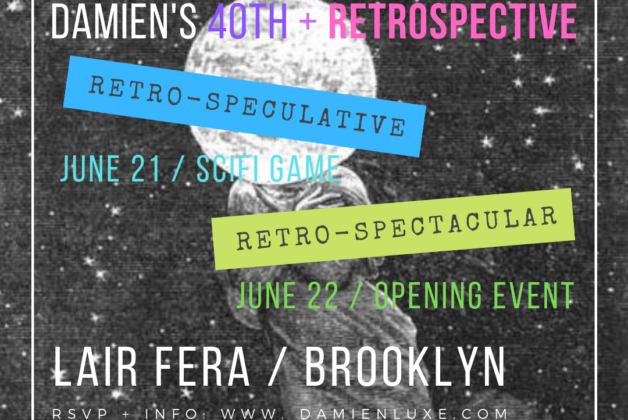 40th Retrospective: Call & RSVP

Good people, it is with joy and not a little surprise I turn 40 in June. Therefore, I am going to curate a retrospective of my body of work: all 25 years of it so far.

This retrospective will have three events:

Retro-speculative — a sci-fi themed participatory game, on Friday June 21
Retro-spectacular — show opening, an evening of performances, and the birthday party, Saturday June 22
Gallery hours for the retrospective — Sunday June 23

If we have created together in the past, or our paths have crossed, I very much want you to participate! If we have never met, tell me a bit about you when you sign up.

---

All events will take place at Lair Fera, Brooklyn.

Please RSVP for the address. An RSVP is forthcoming, or you could check out the FB events if we're FB friends (yes this is a secret location).

FAQ What will be in the retrospective?

You'll get to see work from the Many Facets of Damien (I don't think very many of you have met them AL.), documenting and storytelling a queer working class life and femme fabulous visionary weirdo brain. This'll include:

Fabric-based work, like clothes, costumes, accessories…
Audio works – I've made three albums
Videos – of performances, music videos, and stories
Zines – some being unearthed for the first time in 23 years!
Books – for the first time, I'm printing ALL my unfinished books. Yes this is totally scary.
Collections

But, why a retrospective, Damien?

As a queer woman, activist creative, and dirt bitch extraordinaire, I have made 25 years worth of art because I would let nothing get in the way of sharing my stories and truth: not living in a violent place, not poverty, not misogyny, not shame, not nothing. That alone deserves celebrating.

That I can turn around today and take the time and space to collect, curate, and show the work is a damn miracle, and one I'd like to share and celebrate with some of the many, many, MANY people who I've collaborated and worked with along the way.

How accessible is the space?

The gallery is on the ground floor. There is no step to enter, but two steps to go into the back yard, and the doorways are not ADA compliant and too narrow for a wheelchair. There is one bathroom. There's a local poodle. It's not kidproofed for the toddling ones.